Nemocnice Na Homolce

Prof. Petr Neuzil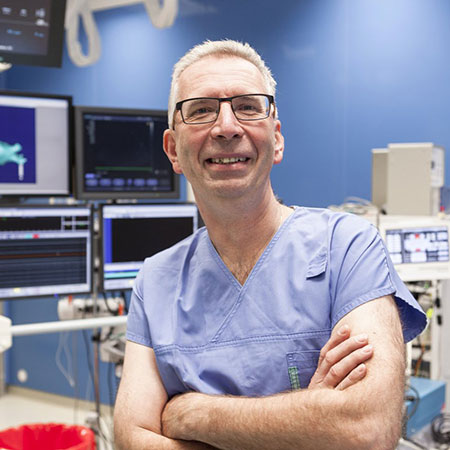 The Department of Cardiology is part the Cardiocenter at Na Homolce Hospital. Our department was one of the first independent departments to cover the wide spectrum of all subspecialties concerning cardiovascular diseases, and has been since 1990. In the past decade our department has evolved to apply the latest technologies currently available in cardiovascular medicine. Incorporating the latest advances in medicine to our procedures has not only been highly effective, but also has improved patient safety. We have a highly educated team of cardiologists, working as a team with emphasis on the most open communication with patients possible.
Since 2007, our department has applied two types of robotic catheterization techniques together with modern imaging methods. We then first in the Republic, where the technology offers patients a new, safer and friendlier diagnosis and treatment of heart disease. At the time, we were the first center in the Czech Republic to offer patients a new, safer and friendlier option in the diagnosis and treatment of heart disease.
We focus on highly specialized treatments of cardiac arrhythmias, with the implementation of catheter ablation and the implantation of cardiac pacemakers and cardioverter-defibrillators for patients at high risk for sudden cardiac death. Traditionally we are among the top centers in Europe in the treatment of cardiac rhythm disorders and the treatment of chronic heart failure. According to the number of patients we treat, we are one of the largest centers in Europe. We perform interventional catheterization procedures in the treatment of acute myocardial infarction and chronic forms of angina pectoris, transcatheter closures of atrial septal defects and percutaneous left atrial appendage transcatheter occlusion in patients at risk of cerebral vascular accident (these procedures belong among the most unique procedures performed in the Czech Republic). Concerning the treatment of acute conditions in cardiology, we are focused on the treatment of sudden cardiac death, and were among the first institutions in the Czech Republic to apply temporary mechanical cardiac support in patients for whom standard therapy had failed. A unique program we provide is the care of adult patients with congenital heart defects, which provides care for patients from the entire country.
Despite the application of advanced technology, we strive to maintain a friendly and human approach to our patients, and professional team conduct to ensure their satisfaction.