ABOUT THE TRIAL
THE BEAT-AF PROJECT
The BEAT-AF, Ground-BrEAking Electroporation-based inTervention for Atrial Fibrillation treatment is an action funded by the European Commission for 60 months and started on March, 1st, 2021. It is part of the HADEA agency (European Health and Digital Executive Agency).
The BEAT-AF consortium regroup 9 partners all over Europe (France, Germany, Belgium, Austria, Czechia) presented in the "meet the centers". The coordinator is Pr Pierre Jaïs from Bordeaux University.
ATRIAL FIBRILLATION
Atrial fibrillation (AF), the most common arrhythmia, accounts for 1/3rd of Cardiovascular expenses, with over 10 millions affected in Europe. In addition to significant impact on quality of life, AF exposes patients to stroke, heart failure, dementia and death. AF is the most commonly ablated arrhythmia. The Pulmonary Vein Isolation (PVI) is the cornerstone of AF ablation, preventing recurrences, especially in patients with paroxysmal AF. Catheter ablation of AF uses either radio-frequency (RF) or cryothermal (cryo) energy. Common to these thermal energy sources is their reliance on time-dependent conductive heating/cooling and the fact that these modalities ablate all tissue types indiscriminately. The ablation procedure remains long, requires skills and expertise, and has a limited success rate, mostly because of non-durable lesions after PVI implying frequent redo procedures. And these energies are associated with rare but severe complications due to their thermal nature.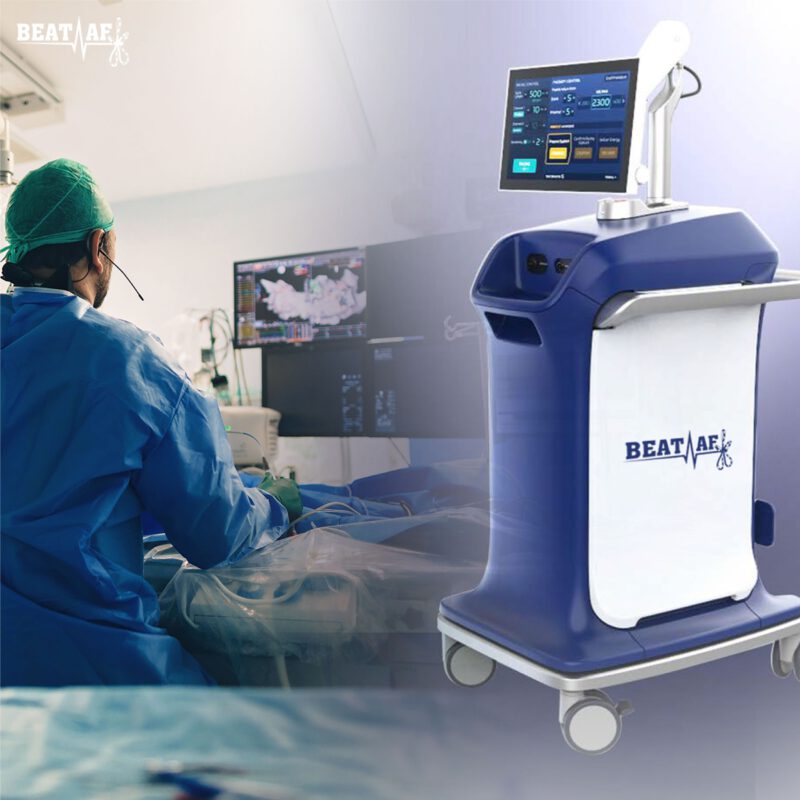 THE BEAT AF TRIAL and its goals
The goal of BEAT AF is to disrupt AF ablation by achieving durable PVI with permanent, coalescent and transmural ablation lesions using Pulsed Electric Field (PEF) energy. PEF is non-thermal and creates nanoscale pores in cell membranes. Cardiac cells are highly sensitive to PEF unlike phrenic and oesophageal cells.
BEAT AF aims to demonstrate that PEF ablation is faster, more effective and safer (tissue selectivity) than RF or cryo ablation. For this purpose, two distinct randomized clinical trials will be conducted:
1) to provide first comparative evidence of the superiority of PEF over RF on the rate of 1-year recurrence for paroxysmal AF, and
2) to provide first evidence of potential efficacy of PEF on the rate of 1-year clinical recurrence for persistent AF.
The BEAT AF consortium gathers 9 European renowned clinical centres (France, Czech Republic, Germany, Austria, Belgium) to set the ground for large trials and contribute to decrease the huge burden of AF in Europe.
UPDATES:
September 2021: We are working on obtaining the authorizations to conduct the trials in the different countries by submitting the protocol to the local ethic committees, under the new European law on trials on medical devices.
FACT SHEET BEAT AF:
https://cordis.europa.eu/project/id/945125